Multipart business forms
Multipart stationery is necessary for most businesses to enable management systems to run smoothly.
We can supply a wide variety of bespoke multi part business forms to you including Invoices, Statements, Remittance Advices, Delivery Notes, Purchase Orders, Register Sets and Credit Notes.
We can supply you with all your multipart business form requirements. Our products include: multi part books and pads and individual loose NCR cut sets.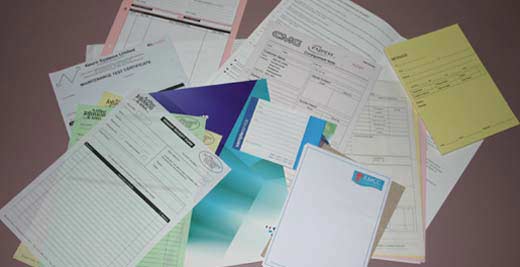 Special features for your multi part business forms can include the following: Numbering (in any position), Bar coding, Desensitised Areas or Carbon Patches (used for blanking out certain areas on sheets) and Perforations.
Orders & Enquiries
Please email us or complete our online enquiry form. Alternatively, you can call us direct on 0115 949 1880. All of our prices are bespoke, we do not hold price lists of any of our products. We supply companies of all sizes, small and large, so please get in touch and we will be happy to help.