Printed envelopes
One of the first forms of communication between companies often comes in the form of a letter, and therefore the printed envelope you use is vital in portraying your company's image. Printed envelopes come in all manner of sizes, styles, materials and colours. The most common envelope printing sizes are; DL, C6, C5, C4 and these correspond with the most common stationery sizes which are A4, A5, A6 and compliment slip size.
Postage paid envelopes (PPI) / Pre paid envelopes
We specialise in printed postage paid envelopes and pre paid envelopes. PPI envelopes are widely used to save time in your mail room as there is no need for stamps as the postage is already pre printed. The most useful application for PPI is return envelopes.
To use a Printed Postage Impression , you will need to set up an account with Royal Mail. You can contact them via their website.
Once you have an account, you can use their online PPI PRODUCER. This will take you through a step by step process of producing the 1st class or 2nd class design.
PPI designs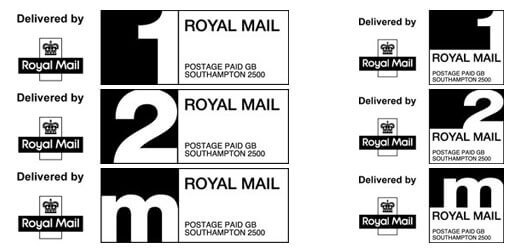 Envelope sizes
DL - DL envelopes hold an A4 sheet folded twice; into 3 parts. Whilst this is the most popular size it does involve folding your stationery in three. If you prefer not to do this, you would be better off with the C4 or C5 sizes.
C4 - C4 envelopes hold an A4 sheet unfolded. C4 envelopes are just slightly bigger than an A4 piece of paper or stationery, enabling them to carry a brochure or catalogue.
C5 - C5 envelopes hold an A4 sheet folded once down the middle, or an unfolded A5 sheet.
C6 - C6 envelopes hold an A4 sheet folded twice in quarters or an A5 sheet folded in half.
Envelope flap styles
There are three main styles of envelopes; Wallet, Pocket or Banker. Wallet and banker envelopes both open along the longer edge, while pocket envelopes open along the shorter edge. Pocket and wallet flap shape is usually a trapezoid and can be used in mailing machines. Banker envelopes open with a large V shaped flap and are not suitable for mailing machines.
There are three main ways of sealing postage envelopes: peel and seal flap, self seal flap or a gummed flap.
Orders & Enquiries
Take a look at the checklist on this page which will help us to provide you with an accurate price for your envelopes.
For a quotation for pre paid postage envelopes / business reply envelopes please email us at: sales@royalegraphics.co.uk or fill in our on line enquiry form. Alternatively, you can call us on 0115 949 1880. FREE samples of different sizes and materials are available on request.