Stock sizes available
We keep many sizes of price gun labels in our stock which can be used on a wide variety of handheld pricing guns.
We also are able to supply an extensive range of pricing guns including sequential numberers. Head layouts can be customised to suit a wide range of applications from basic pricing to batch coding etc.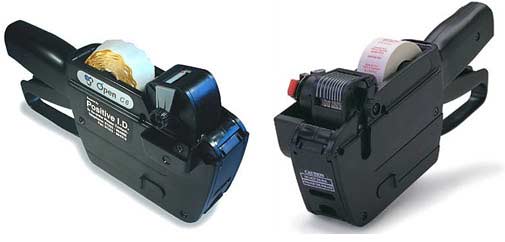 We can offer a vast range of die cut labels, either plain or printed and are happy to quote for all requirements, whether you require these for pricing guns or other labelling systems.
Our pricing gun labels are available in a variety of sizes which can be overprinted with 1, 2 or 3 lines of print and customised with your specific business or product details. Stand out from the crowd with our personalised, printed labels.
Businesses that can benefit from using our pricing gun labels (plain or printed) include: Retailers, small independent shops, frozen food specialists and pharmacies amongst many others.
Orders & Enquiries
Simply let us know the size, quantity and the make and model of the machine your price gun labels will be used on and we will aim to get a quotation to you the same day. If the labels you order are a stock item, they will be sent out to you on a next day service.
For a quotation, please contact us via our online enquiry form, by email or alternatively, you can call us direct on 0115 949 1880. We will be happy to discuss your labelling requirements with you.
All of our quotations are bespoke and prices will depend on the size and quantity you order. We do not hold price lists for any of the products shown on our website.