Direct mail services
We can offer you the complete mail and print services, starting with the production, finishing and personalisation of your project right through to the distribution of it.
Based in Nottingham, we work with many small and large businesses and organisations all across the UK. Whether your project is for hundreds of leaflets, or thousands of membership cards, we will find the best solution for you and at the right price. All of our prices are bespoke and customised to your exact needs and requirements.
We can provide the following services:
Print and Finishing (we can produce your printed forms and envelopes)
Data Cleansing / Database Management (remove duplicates and incorrect addresses)
Personalisation & Variable Data (addresses, codes, PURLs - all traceable to each individual)
Fulfilment Services (folding, enclosing, envelope insertion)
Direct Mailing & Distribution (we are able to send out on your behalf at a reduced postage cost to UK and overseas addresses)
PRINT, PERSONALISE and MAIL: Membership Cards, Brochures, Leaflets, Letters, CD Calendars, Magazines and Postcards, Membership Renewal mailings, Membership Reminder mailings.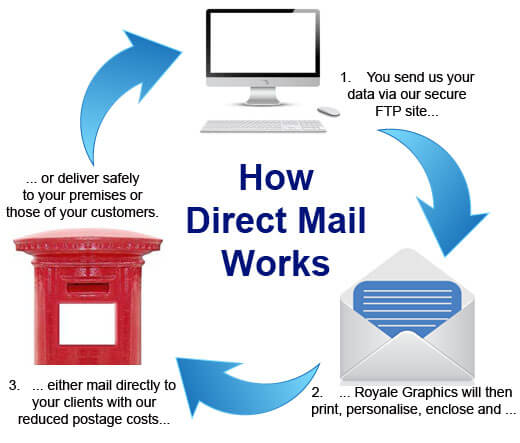 Membership renewals and reminders
Is it time for your members to renew their membership? One of our services includes helping you to prepare to send out a membership renewal packs or reminder mailing packs to your members.
Why you should use our print and mail services for your campaign
Reduced discounted postage costs (send out small or large volumes) - making it more affordable and cost effective. We can save you money! - potential savings of up to 50% on Royal Mail stamp costs!
There is no minimum or maximum order quantity - small and large volumes
You are able to send out a one off or a recurring weekly, monthly or yearly mailing
An effective form of advertising for you business - target existing customers but also new prospective clients
Secure upload of your database to our FTP site - your data is not shared by us with anyone
Reduce your stress levels - we manage every part of your marketing campaign from the production through to the posting out
Orders & Enquiries
If you are interested in finding out more about how our direct mail services work, or for a bespoke quotation, contact us via our online enquiry form, email us at sales@royalegraphics.co.uk, or alternatively you can give us a call on 0115 949 1880. We would be happy to provide you with a competitive quotation for your direct mail project.